The Unplanned Trips
"ROADTRIP!"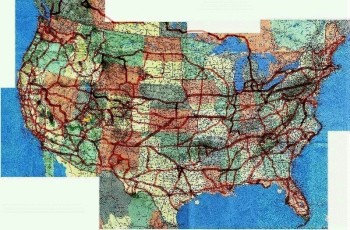 All my trips combined: This map is current as of September 3, 2002.
(Map Copywright 1999 by American Automobile Association, an organization that has been invaluable in guiding me through all my trips, and of which I'm proud to be a member!)
A while ago I added a "Frequently Asked Questions" page to this site -- things people have asked me concerning my trips. Please see this FAQ page before e-mailing me. Thanks.

2015:

Washington-British Columbia (March 2015): Flight to Seattle followed by drive up to Vancouver!
Maui (February 2015): A weeklong "family trip" to Maui
Florida (January 2015): This started as a trip to Aruba and ended as a trip to Florida
California, Nevada, Arizona, Utah (January 2015): My "redemption trip" to Utah.
2014:
Utah, Arizona, Nevada, California: one-way (November 2014): A one-way drive (after outbound flight) from Cedar City, UT to home, using a new car engine! :-)
California, Nevada, Arizona, Utah: one-way (October 2014): A one-way drive (and return flight) to Cedar City, UT, via a tow truck too! :-(
Washington, D.C. (September 2014): A weekend in the nation's capital
Seattle (August 2014): An impromptu roadtrip up to Seattle
California, Nevada, Arizona, Utah (June 2014): Another roadtrip to my favorite places
California, Nevada (May-June 2014): Weekend roadtrip to Yosemite National Park and Lake Tahoe with a couple of long-term nomads!
California, Nevada, Idaho, Montana, Wyoming (May 2014): Roadtrip with a friend up to Yellowstone National Park!
Columbus, Ohio (April 2014): For my cousin's wedding reception
Northern California (March 2014): Roadtrip up the coast to the Redwoods in Northern California
Oregon (March 2014): Roadtrip to Columbia River Gorge National Recreational Area
Kauai, Hawaii (March 2014): Weekend flight/roadtrip to Kauai
Charlotte, NC (February 2014): Another weekend flight to Charlotte
Charlotte, NC (January 2014): Weekend flight to Charlotte
California, Nevada, Arizona, Utah (January 2014): A 20th-anniversary trip to my favorite locations in the country!!!
2013:
Atlantic City, New Jersey (September 2013): Weekend flight for my cousin's surprise 40th birthday party!
California, Nevada, Arizona, Utah (August 2013): Back to my favorite place in the country: Bryce Canyon and Zion National Parks!
California, Nevada, Arizona, Utah (July 2013): Back to Utah again, this time with a couple of work friends
Nevada, Utah, Colorado (June 2013): A between-jobs roadtrip to Colorado and back!
Northern California (May 2013): A spur-of-the-moment last-minute roadtrip up the coast
Washington, DC (April 2013): A weekend flight to the nation's capital for the cherry blossoms
Arizona (April 2013): Sedona and Route 66
Central California coast (March 2013): Mini-roadtrip down the coast to Santa Barbara
Seattle, WA (March 2013): A weekend flight to Seattle
2012:
California/Nevada/Arizona/Utah (Nov 2012): Utah's "golden circle": Zion National Park, Bryce Canyon National Park, Grand Staircase-Escalante National Monument, Capitol Reef National Park, Arches National Park, Monument Valley
Semi-planned roadtrip to Iowa and Ohio (May 2012): Drove with my mom to attend my cousin's med school graduation in Iowa, then for some more family time with other relatives in Ohio. Along the way, stops at various national parks and other sightseeing attractions across the country! (Photos TBD)
2011:
2009:
2008:
2007:
2006:
2005:
2004:
2003:
2002:
2001:
Half of the 50 states (December 2001/January 2002): A 2-week vacation from work!!! First to Chicago, then Boston, Washington DC, Tennessee, Ohio, back to Boston, down to Alabama, Texas, and back to California: The first 10,000+ mile trip since "the big one" during April-August 1995!
Arizona/Nevada (November 2001): A spur-of-the-moment 2-day drive (during Thanksgiving weekend) to Arizona and back.
Colorado (November 2001): A spur-of-the-moment 2-day drive to Denver and back.
Northwestern U.S. (July 2001): A 5-day vacation from work, but a 4-day trip. I went with my cousin from India, touring the Northwestern U.S., the highlight of which was a revisit to the spectacular Glacier National Park in Montana.
Southwestern U.S. (April 2001): A 4-day vacation from work!!!
Oregon (April 2001): It had been a LOOOOooong while since my last "real" trip, so I just had to get away for this 1-day-er. On the way back, I almost lost control of the car on black ice and am lucky to be alive today to type this! But, like all others, this trip was still one of the great ones!
2000:
Cross-country (December 2000-January 2001): 'Twas the third-longest road trip I've ever taken.. and every minute better than the one before!
Tennessee, Mississippi, etc. (November 2000): Yet another adventure, combined with some bizarre driving antics. At 4,513 miles, this ended up being the longest 4-day trip I've taken so far.
September 2000: No trip during the labor day holiday weekend! Now I'm overdue for another big one!
Canadian Border (August 2000): A "five-year anniversary" trip up to Blaine, WA. I was thinking about crossing the border to Vancouver but decided not to at the last minute.
Cross-Country (July 2000): A "weekend drive" to Boston, MA
Northern California (June 2000): Mt. Shasta and Mt. Lassen with scenic drives
Colorado (May 2000): The first "big trip" in my new car -- absolutely spectacular scenery!
Oregon Coast (May 2000): A spur-of-the moment drive that started on Saturday afternoon; went up to Portland then down the coast
Nevada/Utah/Bryce Canyon National Park (April 2000): In my BRAND NEW CAR!!!!
Richland, WA (April 7/8/9, 2000): This trip was on the 5-year anniversary of the start of my 48-state trip back in 1995. So I went to the one place that I've wanted to go back to ever since then, but never did until now.
Vancouver, Canada (March 2000): I went there for dessert. ;-)
Northern California/Southern Oregon (March 2000): hmmmm, I dunno how to describe this one... I just wanted to go for a drive, so I went.
Tucson, Arizona (Febraury 2000): Spur-of-the-moment trip. The decision was made something like this:


Mandar: Hey Ishaan, I'm going to Tucson day after tomorrow. Do you want to come too?
Ishaan: Yeah sure, why not!

Vancouver, Canada (February 2000): "somewhat planned" in that I had flown into Seattle, but otherwise everything else about this trip (like driving up to Vancouver at 2 in the morning on Friday night after checking into my motel in Bellingham) was totally unplanned! I even died once (but not 4 times like I had hoped)! My thanks to the two people I met in Vancouver that made this trip excellent!
1999:
1998:
NONE!!! (New Years Eve 1999 Weekend): GRRRRR!
Arizona (December 1998): Alone at last, alone at last, THANK GOD ALMIGHTY I WAS ALONE AT LAST!!! :-)
Yosemite National Park (December 1998): Again, with my family rather than alone...
Grand Canyon/Las Vegas/Bryce Canyon/Zion Canyon National Parks (November 1998): This was with my family; not alone... I think my 11th visit to Bryce Canyon; 3rd time this year!!
Southern Oregon/Northern California (October 1998): Another trip that was as "unplanned" as any "unplanned trip" can get!
Northern Arizona, Monument Valley, Eastern Utah, Western Colorado, then the rest of Utah and Northern Nevada (September 1998): As "unplanned" as any "unplanned trip" can get! This trip lasted five days, and I literally had no idea where I wanted to go each day until I got there!
Bryce Canyon National Park (September 1998): For the tenth time, I believe. Could be 9. Could be 11 -- I don't know. This time it was with two other people, and it was during a "regular" 2-day weekend, as opposed to a long weekend.
Ohio, North Carolina, Georgia, and everything in between (August 1998): Broke a couple more personal driving records. A very weird trip as far as my trips are concerned. (7246.7 miles over 12 days and 44 minutes, with a little over 4 days break in the middle)
Nevada/Utah/Colorado/Kansas/Oklahoma/Texas/New Mexico/Arizona (July 1998): This was really more of a "driving" trip than a "sightseeing" trip (3672.5 miles). I broke a couple of my personal driving records.
Nevada/Utah/Wyoming/Colorado/Arizona (May 1998): A 2,826 miles long "mega-trip", the highlight of which were the gorgeous Rocky Mountains of Southwestern Colorado! (Monarch Pass, el. 11312 feet)
Seattle-Spokane-Walla Walla, WA (May 1998): I FINALLY went to Seattle on this trip, after two recent aborted attempts (See below). The scenery was fantastic -- a whole lot of flowers as a reminder of the beginning of spring!!! This was also the first time I'd been to Spokane, and that also deserves at least one more visit.
Roseburg, OR-Crescent City, CA (April 1998): (See below) Again, I wanted to go to Seattle, but was forced to cut the trip short!
Redding-Eureka-Humboldt Redwoods State Park (April 1998): Actually, I had intended to go up to Seattle on this trip, but was forced to cut it short due to some weather problems!
Route 66/Gallup, New Mexico (February-March 1998): A leisurely 2-day drive down South! On the way back, I established a personal non-stop driving record of 486 miles!
Bryce Canyon Nat'l Park-Las Vegas-Death Valley Nat'l Park (January 1998): I consider Bryce Canyon National Park to be the prettiest National Park in the country, and that's why I went there again (for the ninth time, I believe) to celebrate the new year.
1997:
Columbia River Gorge Nat'l Rec. Area [Oregon] (December 1997): Like the one below, the snow all around made the scenery just great!
Oklahoma-Arkansas border (November 1997): This was the only one where I had rented a car. Since it was snowing, the scenery was also great!
Central North Dakota and South Dakota (August-September 1997): This trip added two more state capitals on my list of capitals I had visited, and the entire 3800-mile round-trip drive was gorgeous!!!
Nevada-Utah border (April 1997): This was my first trip into the Northern Nevada desert, and I was very surprised to see how scenic it really was!
Canadian border (March 1997): By the end of this trip, I had driven the entire length of Interstate Freeway 5 from Mexico to Canada.
1996:
Utah (April 1996): The "one year anniversary" trip of the start of my 48-state trip
Also, every once in a while, around Sunday afternoon, I get this sudden urge to go for a drive. Since I have work on Mondays, these trips are fairly limited in scope. These include: (all are round-trip drives from San Jose:)
San Francisco Bay Area bridges: one of my favorite drives is going on all the bay area bridges.
Monterey Coast: A fantastic getaway from from one bay area to another!
Big Sur Coast: California's state highway 1 from San Francisco to San Luis Obispo is the prettiest oceanside drive in the lower 49 states!
Eureka: Just 'cuz it's the state motto. (this round-trip usually takes all day, although I've done it in 6 hours once)
Sacramento-Fresno-Bakersfield: This also takes all day, and it's not as scenic as the drive to Eureka, but the radio stations are excellent!
Pinnacles National Monument: Conveniently located just 100 miles away, this is a terrific getaway for some hiking trails through beautiful scenery.
Santa Barbara: I'm listing this one last because unlike the above drives, I've only driven there once from San Jose. But it's incredibly scenic!!!
Now that you've had a small glimpse into my life, click here to get a deeper glimpse....

Or if you wish you may go back...


Home