Nevada/Utah/Wyoming/Nebraska/Kansas/Colorado
Route Map: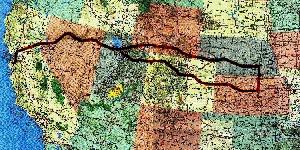 (Map Copywright 1999 by American Automobile Association)

This trip was a blessing: I actually had the Memorial Day long weekend off from work, so naturally I went on a roadtrip!

I started driving on I-80 East... going and going and going.... until I reached about half-way across Nebraska. Then I decided to turn around and come back. After turning South into Kansas, I headed back on I-70 West, and returned through the Colorado rockies back home.... At just under 4,000 miles, this was one of the longest 3-day roadtrips I've ever taken!


DATE: MAY 24, 2002

9:24 PM = Left home. 0.0 Trip miles. 68,538 total. First "Real" roadtrip since coming back from cross-country trip in Jan!!


DATE: MAY 26, 2002

2:19 PM = 1625 = Exited on a whim at I-80x253 in York, NE -- I'm going down to Kansas now.

3:20 PM = 1684.2 miles = The Sunflower State (i.e. the Flattest State in the country)

4:30 PM = 1762.6 miles = Turned homeward-bound on I-70 in Salina, KS. This is the first time I'm coming on this section of I-70 in 7 years and 1 month!


DATE: MAY 27, 2002

7:04 AM/2199.0 = On the road again.... Looking forward to today's drive on I-70 and beyond being the highlight of this trip -- it's a beautiful day, partly cloudy -- Already started first major climb in 4th gear as I'm writing this (7:09 AM)

7:14/2210 = m253 = First "Great Sight" -- Buffalo Herd Overlook

7:30/2228 (near m233) = Alarm went off on the cellphone. I'm considering a 3-hour detour which will add 2 hours to end of the day.

7:33/2230.9 = Forgot about the 3-hour detour and took I-70x232 for U.S. Hwy 40 West towards SLC. It will be "new" after Granby.

8:05/2245 = Berthoud Pass (el. 11,307) Spectacular scenery all along this road!!!

8:19/2253 = There's no restroom in this wilderness among the mountains!!! :-(

8:29 = Found relief at a McDonalds in Winter Park! :-)

8:48/2277.7 miles = Passed JCT Hwys 40/34. First time ever that I'm coming here.

SWEEPING VIEWS! I WANNA SKYDIVE HERE!!!

12:11 PM/2487.3 trip miles = Back to Utah The Beautiful


DATE: MAY 28, 2002

12:46 AM = Home. 3,455.9 trip miles. 71,994 total. I was only 45 minutes and 26.3 miles late from estimate made at 7:30 AM -- based on a different route. 2nd-longest 3-day trip so far.