Coast-to-Coast and back
Route Map: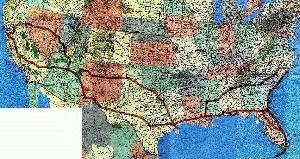 (Map Copywright 1999 by American Automobile Association)

What can I say about this trip.... I had taken 2 weeks off from work to do another big trip, and as usual, I did not know where I was going until I got there. Of course I went to Bryce Canyon again -- couldn't resist! Then there was unexpected winter storm in Oklahoma and Arkansas, forcing me to turn southward into central Texas.... met a friend there for a very brief 30 minutes, then continued driving East.... then North again to North Carolina, met a friend in Jacksonville, then south along the Atlantic coast to Pensacola, FL -- met some more people there, got a 30000-mile servicing on the car.... then instead of heading back home, I got the urge to go east, and down to the Florida Keys. I spent half a day (too short!) in Cape Canaveral, and was driving through Jacksonville, FL during rush hour on Friday evening before the last weekend of the trip. After that, it was a straight 58-hours long marathon-drive back home, reaching San Jose late Sunday night.

This trip was very much like the second half of the 48-state trip back in April-August 1995... Every day, I did not know where I was going to be the next day. And even after I had decided on some place, almost every plan would be changed along the route! It's that kind of spontaneity that makes trips like these memorable!! This was also the longest roadtrip since that big one in 1995: 16 days 2 hours 7 minutes; 9006.5 miles. And every minute of that fantastic!!!

The first 12 pictures are all from Bryce Canyon National Park: No other place in the country compares to this!!!


Selected Trip journal entries:
DATE: DECEMBER 22, 2000

11:10 PM = Left home on the longest roadtrip (in terms of time, not necessarily miles) since "THE BIG ONE" way way back in 1995. 0.0 trip miles. 25,978.0 Total odometer miles.


DATE: DECEMBER 23, 2000

Went to Washington Mutual Bank @ Reno but no ATM! Back on I-80 @ 7:10 AM

Slept on the road and off the road.

10:00 AM - $15.84 Gas @ Fallon. 326.2 miles. Slept again for a cupla hours on and off the road.


DATE: DECEMBER 24, 2000

'Tis a gorgeous day outside - perfect for my favorite spot in the country!

11:35 AM = Entered my favorite Park; 829 miles

Turned around at Agua Point this time.

1:40 PM = Finished Sunset Point; 861 miles. Keeps getting prettier and prettier every time I see it!


DATE: DECEMBER 25, 2000

'Tis started to be a White Christmas, and me gotta keep ahead of the weather...

10:55 AM = I-40 thru NM, TX, OK, & AR was described on the Weather Channel as "a nightmare for travellers" -- so moi took 180 South from Holbrook to Deming, NM; also liznin' to X-mas songs on Flagstaff stations

2:553 PM/1482 miles = Started to rain, and there isn't any indication that it's gonna stop for the next 2 days! i did manage to keep ahead of the snowstorm though. Tonight's tentative stop = SOnora, TX. Tomorrow = Mobile, AL or mebbe even that next city in Florda. Wednesday night = Wilmington, north carolina.


DATE: DECEMBER 26, 2000

The car is frozen from the outside! Couldn't even get the gas tank door open -- had to thaw it first!

9:45 AM = On the road again after warming up as much as possible and removing as much ice from all around the car as possible


DATE: DECEMBER 27, 2000

8:26 AM = Headin' North on I-55, an old favorite! 2720 miles


DATE: DECEMBER 27, 2000

4:13 PM EST = Georgia on my mind; 3175.0 miles. The main metal in an olympic gold medal is silver! Georgia's exit numbers are based on miles now!!!


DATE: DECEMBER 29, 2000

7:55 PM = Turned homeward-bound on good ole I-10 again; 4183.0 miles


DATE: JANUARY 3, 2001

9:53 AM CST = From I-110 North to I-10 EAST (not west); 4764.2 miles

1:49 PM EST = 4964 miles on this trip = Made first EMA for home = 9041 miles when I reach San Jose -- on Monday morning at 12:42 AM. Lets see how accurate that'll turn out to be!


DATE: JANUARY 4, 2001

4:35 PM = At Southernmost point in Continental United States; 5625.5 miles.

5:50 PM = After watching a "good" (

) sunset from a pier, came back to car and about to leave now.


DATE: JANUARY 5, 2001

5:57 PM = I-295x8B fpor I-10 West -- Turned homeward-bound again -- for the last time on this trip. 6154.0.


DATE: JANUARY 5, 2001

11:24 PM/6585.6 miles = Said bye-bye to alabama.

12:29 AM/6663.9 = was bienvenue'd by and to louisiana.


DATE: JANUARY 7, 2001

8:30 AM/7723.3 miles = Checked out. Car was frozen again; but not as bad as the day after Chrismas. This is the last day of a memorable trip, and i really don't wanna go back home!

12:27 = 33978 total miles = Finished 8000 TRIP MILES. whether or not this trip will be more than 9000 is still undecided.

4:33 PM PST = Entered the Golden State while watching a beautiful golden sunset behind the mountains. 8422.7 miles.

11:08 PM - Took exit for 152; 8873.6 miles. i'm sleepy. not taking the 9000-mile trip this time.

11:58 PM = 8927.2 miles = entered San Jose city limits. i'm not sleepy anymore. i'm getitn' a crazy idea again... THIS TRIP AIN'T OVER YET!

1:11 AM = 9000 TRIP MILES

1:16 AM = Home. 9006.5 trip miles. 34,984 total.