Across the U.S.A.
Route Map: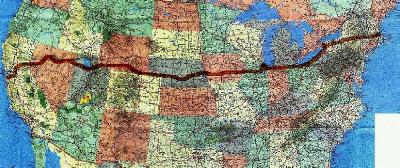 (Map Copywright 1999 by American Automobile Association)

This trip was another unique one, but similar to the Louisiana trip back in November 1999. A "friend of a friend" had recently moved to Boston and wanted someone to drive his car over there in return for the trip expenses and a flight back. When I found out that the car was a Saab Convertible, naturally I accepted! Well, there were some hiccups in planning this trip and actually I did not know until 2 days earlier that I was really going! But, in the end everything worked out. A friend from work also came along and he got to see the country for the first time, while forcing me to stay awake on those first two LONG night drives!

This entire trip was quite rushed, since we left San Jose on Friday afternoon and had to be in Boston by the following Tuesday afternoon for our flight back on Tuesday evening. Along the way, we made sightseeing stops in Reno, Salt Lake City, Chicago/Michigan City, and Niagara Falls (more on that later).

And so, here are the pictures from this trip:

For the Sears Tower picture, I have a similar shot like this of the Empire State Building in New York, so I thought, "why not take another?"... As it turned out, taking that picture of the Mormon Temple in Salt Lake City was a learning experience for this one.

The last picture is With Amanda, one of my internet friends from the "Get Smart" fan club -- This was in Michigan City, IN, across the lake from Chicago

All the remaining pictures are from Niagara Falls. All of these are taken from the American side, as Kalai did not have a Canadian Visa.

Now, something about this place which irritated me so much I swore I would put this note on my webpage:

The falls themselves are of course spectacular. What is not-so-spectucular is that NO single attraction ticket on the American side of the falls accepts credit cards or ATM cards as payment. They ALL operate on a cash-only basis, and do not tell you that until you've stood in line for an hour and half to get the ticket! Unfortunately by this time our cash supply had dwindled, and there was only enough money for one of us -- Kalai -- to go on the world- famous Maid Of The Mist boat ride. The one and only ATM machine anywhere near the falls is a good 15-20 minutes walk away, inside a shopping center.

We couldn't believe it when we went there! It's true we both should have carried enough cash with us, but it's also a safe assumption that any world- class attraction such as Maid of the Mist MUST accept credit cards as payment for the ticket! Not so in this case, which was very dissapointing!
One more side-note: The attractions on the Canadian side DO accept credit cards (although they still do not accept ATM cards)! This I remember from a trip to the Canadian side of the falls in November 1999. And of course, the falls look much better from the Canadian side than from the U.S. side. Hooray for Canada!

So, here are the pictures:

After exactly 3,291.0 trip miles, we finally reached Boston at 2:28 PM on Tuesday -- on time for a 5:35 PM flight back home! As it turned out, the second leg of this flight back, from Saint Louis to San Jose, was the perfect end to this memorable trip -- The timing was just perfect all along that journey that we got to see almost continuous Independence Day fireworks from the plane in every town between Saint Louis to Colorado Springs/Denver (those two simultaneously)!