Nevada/Utah/Colorado
Route Map: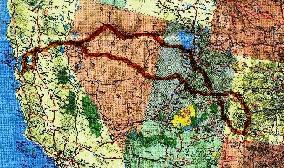 (Map Copywright 1999 by American Automobile Association)

The first four pictures are on U.S. Highway 50 in Nevada: "The loneliest road in America". After that all the remaining pics except for the last three are in Colorado, along the San Juan Skyway:

The last three pictures are:

"No services" of any kind on this road for the next 108 miles: I-70, Utah. I remember there used to be a billboard here 5 years ago saying in big letters, "For the next 108 miles, it's just the sun, the Utah desert, and YOU!" -- basically advertising that this is last exit to stop and pay the exorbitant gasoline prices, or "fill up" on food.
Salt deposits along I-80, Nevada/Utah border
"The Last Sunset" on this trip : This was in Nevada