Colorado, The Rocky Mountain State
Route Map: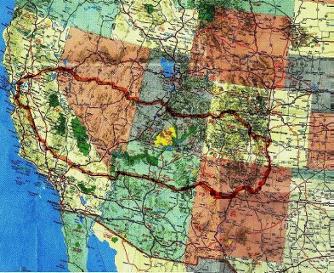 (Map Copywright 1999 by American Automobile Association)

This was a 26th birthday trip to Colorado. Before leaving home, I could not decide whether I wanted to go to Colorado or to Vancouver, British Columbia. When I reached Sacramento, I made up my mind that I wanted to continue driving East rather than North. Now, I am glad I did!!!

With the exception of the sunset pictures in the end, all of the photographs on this page were taken on June 6, 1999. Almost all of them were taken South of Aspen on Hwy 82, but there are some pictures from Hwy 285 also. These were fantastic roads to spend my birthday on!! The sunset pictures were taken just outside Barstow, CA on June 7, 1999.