Coast-to-Coast, Up and down, and back
Route Map: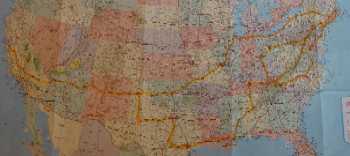 (Map Copywright 2000 by American Automobile Association)

It's become somewhat of a tradition to do a "coast-to-coast" drive during the Christmas and New Years holidays. This was the third year in a row I was doing this. Still, just like every skydive, every road trip is unique with unique experiences.

This time, I actually went into the Northern regions of the country during the wintertime -- something I've never done before. Not on any trip this long anyway! It all started when a friend from work wanted to go and see his family in Chicago and could not find good flight deals. While we were talking about where to find cheap tickets, it occured to me that I have a cousin studying at Harvard University who had just come there from India... and Cambridge, MA is only about a thousand miles from Chicago! Perfect opportunity to drop off my friend in Chicago, then drive to Boston and meet my cousin whom I had not seen in more than four years, then go on with the rest of my trip!

Everything just fell into place -- I rented a car for 2 weeks, went to AAA to get all the latest maps and tourbooks -- this was going to be a GREAT trip, and I was looking forward to another fantastic adventure!

Mohammed and I started driving from San Jose at about 2 AM on Friday night/Saturday morning on the 22nd of December......... and did not stop until we reached Saint Louis at about 9 AM on Sunday morning! We stopped off for some quick sightseeing at the Gateway Arch (my second time; Mohammed's first). We were freezing from head to toe, but it was still fun, and a good break from the 30+ hours of continuous, non- stop-except-to-refuel-and-eat driving between the two of us! I was behind the wheel for most of that time -- my guess is I probably drove about 20+ of those hours and Mohammed drove the other 10, while I slept.

When we reached Chicago on Sunday night, it was starting to snow quite hard. I dropped Mohammed off at the house of another friend from work who DID find a good air deal (and later regretted not driving to Chicago with us). After that I started driving immediately again towards Boston -- now all alone, and through heavy snow.

I chose I-80 and I-90 to reach Boston -- the shortest route. The problem with this was that I-90 goes through Buffalo, NY -- and Buffalo was experiencing very heavy snowfall. Luckily, I managed to "sneak through" the city just in the nick of time. Later on I found out that the snowstorm had closed Buffalo airport and no private vehicles were allowed out on the streets because it was simply too dangerous! I had told my cousin Parth earlier that I would be reaching Cambridge late that night -- Monday night. I started approaching the city just before midnight.

Boston area roads have never been good to me! It seems every time I go there I manage to get lost somehow! This time, I happened to be in the wrong lane while paying a toll, and missed the Cambridge exit. BIG mistake! I kept going on I-90 East beyond Cambridge, did not want to exit in the downtown area so decided to take I-95 North, found out there are no exits up there except to go to the airport (another toll road), so I kept going north on I-95 BEYOND Boston's city limits to the East, and exited on some local road to turn around and come back. Simple, right?

WRONG! The road I happened to exit on (just my luck) had a center divider and there was no place I could make a U-turn! Not even a Right/U/Left combination to get back going the other way! I must have gone around 5-10 miles down the road before I found a place to make a U-turn! I came all the way back on that road, I-95 South again, I-90 West again, PAST Cambridge, another exit/U-turn, I-90 East, and this time I made damn sure I was going to be in the correct lane and take the Cambridge exit after the toll plaza!!!

Fortunately, all this worked out fine and I reached my cousin Parth's apartment just around 1:00 AM on Monday night/Tuesday morning -- about 1 hour late.

His apartment was FANTASTIC! From his room, he has a view of the entire skyline of Boston, and from the living room is a view of Cambridge and Harvard University and the semi-frozen Charles River! It was gorgeous!

First thing next morning, it was time to head out of Cambridge for Parth's first somewhat-large tour of the American countryside. We had no plan -- We just wanted to drive where the wind took us! Okay... we did have ONE plan -- pick up his two friends from Cambridge and drop them off in New York City. "It's only 250 miles... no problem!"

Driving into New York for the first time after the September 11 attacks seemed strange to say the least! I saw the forever-changed city skyline and started getting chills! I could not believe I was seeing New York City without the twin towers of the World Trade Center! It looked so different -- almost unreal!

We were stuck in traffic in New York for quite a while, and dropping off Parth's two friends in two different places took well into nighttime... which meant Parth and I would not be reaching Washington DC that night as was hoped. No problem... I had another cousin in Delaware and he was kind enough to let two tired wanderers spend the night at his place........ in return for listening to his marketing presentation of his "FABULOUS Tivo -- it's the neatest thing since sliced bread!"

The next day it was on to the nation's capital... on a very, very cold day!

We had dinner with my other cousin Shilpa and stayed the night at one of Parth's friend's home, the next day was again at D.C., after which we were off again to warmer climates down South...

At Knoxville I got the crazy idea to turn back North again and go to Columbus, OH.

So we did.

Another night was spent at my cousins Mandar and Gina's BRAND NEW house, with a great entertain system to boot!!

After that I dropped Parth off at Boston (celebrated New Years at a motel in Pennsylvania along the way), and was on the road by myself again on the evening of January 2, 2002... without any plan as to which roads to take to get back to California. One thing I knew was that I defintely wanted to go South into warmer weather again!

So that's where I went... Southern Texas, actually... met another chat-friend in Orange, and was on the road once again, heading back home. The trip was almost over, and soon I'd have to get back to work!

Coming back from Orange, TX to San Jose, CA was another adventure on it's own.. I had 2 days to make the 2000-mile trip. But I wanted it to be a 2,200 mile trip - just so that this whole trip would be over 10,000 total miles. So I took a slightly longer route -- first starting Eastward towards San Antonio, then going North to Austin, Dallas, then East again and North again into Lubbock and Amarillo, then back East on I-40 into New Mexico -- all of these turns made at the last minute, as I was approaching those freeway exits. I reached Tucumcari at around midnight and went to sleep at a motel there -- the last night of this trip. The next day, I had 1,200 miles to drive.

It was a great start -- I was on the road before 8:00 AM! And it was a GREAT drive -- New Mexico desert is gorgeous in the wintertime! Actually, it's gorgeous at any time! I raced through New Mexico and Arizona, entering California well before sunset.

Aaah, the sunset! I've seen great sunsets on every long trip, and this one was one of the better ones! It was fantastic, so I went a little crazy with the photographs...

The trip was 10,009 miles long. Based on the miles and the number of states visited (25), this was the third-longest road trip I have ever taken -- so far. Based on the number of days/hours/minutes, it was the fourth-longest road trip I've have ever taken.. again, "so far."


Selected trip journal entries:


DATE: DECEMBER 22, 2001

6:20 AM = 322 miles = Ain't nothin' like Driving all night & watching a golden yellow sunrise in the East!


DATE: DECEMBER 22, 2001

5:09 PM = 1000 miles = Bet Mohammed that I-40 will be under construction in Aaalbuhkurkey.

6:12 PM = 1056.0 miles = Passed I-40x159 for I-25 -- and yes, I-40 is STILL under construction (after 8 years)


DATE: JANUARY 3, 2002

12:33 PM = 7017.5 miles = I-40x210 for I-65 South - goin' to Forrest Gump Land.

1:34 PM = 7099.5 = Alabama The Beautiful

4:26 PM = 7328.0 = Miss Issippi (or is it Ms.?)

4:42 PM = 7351.0 = I-59 South. I'm coming here for the first time in almost 8 years (Jan. 28, 1994)


DATE: JANUARY 5, 2002

8:02 PM = 8482.5 miles = Last-second change of plan! Took I-20x177 in Big Spring for Highway 87 North -- I'm going to Lubbock now (and Amarillo).


DATE: JANUARY 6, 2002

"All good trips......."


DATE: JANUARY 6, 2002

11:14 AM = 8988.0 = Passed I-40x159B,C for I-25 in Albuquerque -- and I-40 is under construction


DATE: JANUARY 6, 2002

4:55 PM = 9504.8 trip miles = Came back to the Golden State while watching and taking pictures of a very nice golden sunset -- the last one on this trip... feels strange to be back in California after so long... it's been one helluva trip! (so far...........)

11:28 PM/9991.5 trip miles = Switched to "Convertible Mode" and put in CD #30

11:37 PM/11165.7 Total miles = 10,000 TRIP MILES! Song on CD = "Iko Iko" and then... "Born to be Wild". 3rd longest roadtrip ever --- so far!

11:59 PM = Home : After 10,028.8 trip miles; 16 days 22 hours; 26 states. 11,194.45 Total odometer miles!