Circling Utah...: August 31-September 2, 2002
Route Map: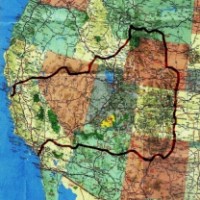 (Map Copywright 1999 by American Automobile Association)

"Circling Utah" was not the intent of this trip - it just turned out that way! I left from my parents house in Southern California, and wanted to go to Colorado mountain roads before they closed for the winter. Well, as all unplanned trips, that plan changed when I forgot to take the Hwy 666 exit in Gallup, NM which goes north into Colorado! So instead of turning around I kept driving... and driving... decided to go North from Albuquerque, thinking I'd probably spend the night in Denver and go into the mountains the next day. That did not happen either. So I just kept driving... and driving....

And then I came home.


And now for something "experimental" that I started with the Canada trip webpage: Journal entries from this trip:

Sunday September 1, 2002 2:02 PM/815.6 trip miles = I-40x159C for I-25 North; THERE IS NO CONSTRUCTION ON I-40!!!! For the first time in more than 8 years......

Sunday September 1, 2002 5:24 PM/1050 trip miles = The Oh-so-lovely Colorado

Sunday September 1, 2002 8:21 PM/1263.0 trip miles = Passed under good ole I-70 in good ole Denver.

Monday September 2, 2002 11:48 AM/1431.0 trip miles = Found another good drink combo: 1/4 Sprite, 3/8 Dr. Pepper, 3/8 Minute Maid Orange Soda!

Tuesday September 3, 2002 10:54 AM/2068.4 trip miles = Bumper sticker: "Patience pays off, but impatience pays off sooner."

Wednesday September 4, 2002 12:48 AM/3034.0 trip miles = HOME! 89,018 total odometer miles. I'm averaging 300 miles/day since beginning of Canada trip; 117.05 miles/day since April 5, 2000.